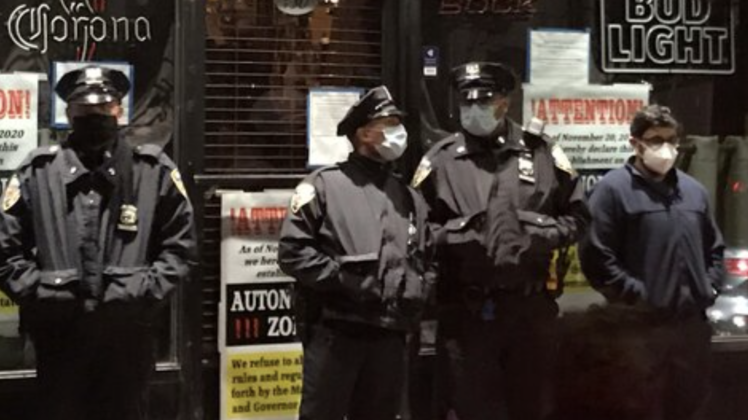 A massive crowd of desperate and angry citizens converged on a beloved Staten Island pub that has been shut down because of China Virus regulations imposed by Gov. Andrew Cuomo and Mayor Bill De Blasio.
Hundreds gathered outside Mac's Public House singing "God Bless America," chanting, "USA, USA," just one day after police raided the bar and arrested one of the owners.
EDITOR'S NOTE: Social media is cracking down on Conservative content. Many of you have complained that you never see our content in your news feeds. There's only one way to fight back — and that's by subscribing to my FREE weekly newsletter. Click here.
"We are being subjugated by our own government," one man told the Staten Island Advance as he carried an American flag upside down.
"To me this is a revolution," said Christine Salica, a makeup artist who has been out of work since March. "[Gov. Andrew] Cuomo and his legislators are collecting our paychecks and they are putting us out of work."
Danny Presti, a co-owner of the bar, was arrested on Wednesday night after he declared his business an "autonomous zone" and reopened. Presti spoke to the crowd at about 6:45 p.m.
"We are a community," he said. "We take back Staten Island tonight. We take all the states back. This is how we take our country back."
The American Revolution was birthed in a Boston tavern. The next one may have just been birthed in a Staten Island pub.
Team Starnes has compiled video from the scene of tonight's protest and rally. This could very well be the early stages of what could be a revolution to take back our nation.
A huge group of people gathered outside the Staten Island bar – in the middle of a COVID hot zone – that was shut down last night by police for violating pandemic safety rules. Many could be seen carrying the American flag. https://t.co/wNY30RhP1l pic.twitter.com/c4CLajRio7

— Eyewitness News (@ABC7NY) December 3, 2020
Happening now in Staten Island: American Patriots protesting against @NYGovCuomo and @NYCMayor for arresting a bar owner for going into his own establishment.

We're silent no more. #OPENUPNYC pic.twitter.com/GqvKloiv6o

— Joel Fischer (@JFNYC1) December 2, 2020
HUNDREDS of patriots have turned out to support the Staten Island bar owner who was arrested for opening under Governor Cuomo's lockdown!

New Yorkers are fighting to take our freedoms back!!! ?? pic.twitter.com/Bz2k96pYnq

— Andrea Catsimatidis (@AJ_Cats_) December 2, 2020
'HYPOCRISY': "There's hundreds of people in HomeGoods buying ceramic penguins and this guy can't open his small little business."

Staten Island activist Scott Labaido reacts to the 'raid' of Mac's Public House in Staten Island with @ShaunKraisman. https://t.co/VlT7z8drtO pic.twitter.com/eEJ8aVq3Bb

— Newsmax (@newsmax) December 2, 2020