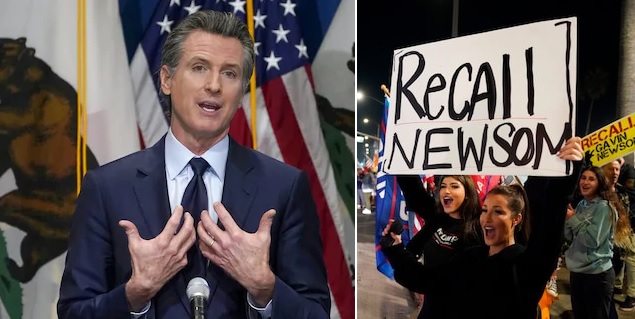 Before you read this I want to strongly urge you to sign up for Todd's free newsletter. It's your only life line to conservative news and commentary. We can no longer rely on social media. Click here to subscribe.
The effort to recall California Gov. Gavin Newsom is gaining steam as citizens in the state are outraged amid his handling of the coronavirus pandemic.
Shannon Scholten, president of the Christian Satellite Network (CSN), told the Todd Starnes Show Californians are upset with record homelessness, unaffordable housing, rising crime, and failing schools.
Click Here to pre-order Todd's new devotion book: "Our Daily Biscuit: Devotions With a Drawl.
"People are fed up," Scholten said. "They're done. Californians need change, want change, and with this petition, they're showing and proving they're willing to do what needs to happen to get change happening right now in 2021."
As of Monday, Recall Gavin 2020 – the main organization behind the effort – reports they have collected more than 1.4 out of the 1.5 million needed to qualify for a ballot. They have until March 10th collect and validate the required number of signatures.
Scholten said the Democratic governor's "draconian laws" has caused many in the solid blue state to reconsider their positions.
"Even liberals they're saying, 'You know what? Our freedoms, our rights, our inalienable rights as Americans, our religious and civil liberties are being infringed upon. Something's got to give. I'm not okay with this,' and now they're starting to switch seats a little bit and that's actually refreshing and very good thing to see happening," she stated. "People are waking up."
Scholten points to faith leaders like Pastor Jack Hibbs of Calvary Chapel Chino Hills and Pastor John MacArthur of Grace Community Church who have been fighting the worship bans before being granted a victory by the Supreme Court last week, ruling that California cannot ban indoor services any longer.
"I think we need to take back our education system, start being voices in our communities and really start teaching our children and re-educating ourselves on what it means to be an American so we don't lose these rights because this current administration is going for the throat against churches, against Christians that infringes on everybody's civil liberties and religious freedoms, and that's a problem," Scholten concluded.
Caleb Parke is a senior correspondent for the 'Todd Starnes Show.' Follow him on Twitter, Facebook, Instagram, and connect with him at calebparke.com.