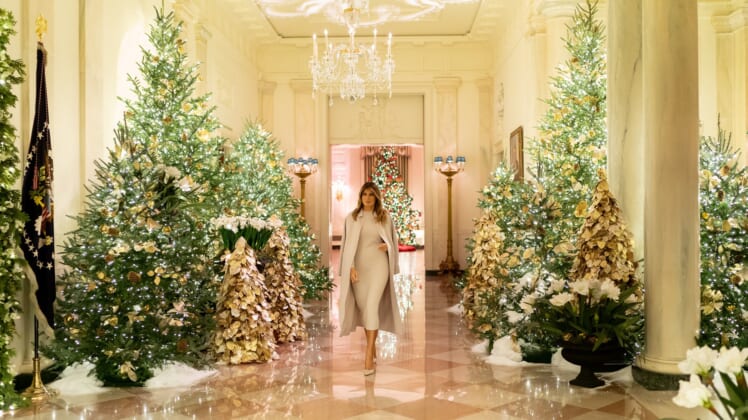 The Washington Post's fashion critic published a scathing attack on First Lady Melania Trump's wardrobe – lambasting her coat selection as ludicrous, discomforting and a fashion folly.
"The coat looks ridiculous," Robin Givhan wrote in the Post. "But more than a silly fashion folly, the coat is a distraction. It's a discomforting affectation taken to a ludicrous extreme."
Click here for a free subscription to weekly Todd's newsletter: a must-read for Conservatives!
Our stunning First Lady was wearing a lovely white coat as she provided a tour of the White House Christmas decorations.
"In a video that is intended to celebrate the warmth and welcoming spirit of the holiday season, that simple flourish exudes cold, dismissive aloofness," Ms. Givhan wrote in her vicious attack.
The First Lady has been subjected to years of hateful abuse by members of the Mainstream Media – especially the folks who get paid to write about hats and shoes for a living.
At first, I simply dismissed their diatribes as political grumbling, but I'm wondering if there's something more to their abuse of Mrs. Trump? Perhaps it's jealousy?
"She has styled herself in a manner that contradicts what her staff has so often insisted — that she is an engaged hostess who sweats the details and frets about her guests' comfort. Instead, she looks like the sort of host who greets her guests at the front door, tells them to remove their shoes and warns them not to sit on the Lalanne sheep," Ms. Givhan sneered.
"The Spirit of America" is shining in the @WhiteHouse! I am delighted to share this beautiful exhibit of patriotism for all to see, and excited for everyone to experience the beauty of the #Christmas season! pic.twitter.com/qGxxl9qBrd

— Melania Trump (@FLOTUS) December 2, 2019